Posted by Just Sweatshirts on Oct 12th 2023
We get it—sometimes, your wardrobe needs a breath of fresh air without the fuss. That's where the cotton sweatshirt steps in.
The best part? The versatility is unbeatable. You can take this classic piece from zero to a hundred in no time. In this blog, we're diving into all the ways to style your favorite cotton sweatshirt, whether a French terry crop hoodie, a Privé hoodie, or a scoop neck sensation.
A Deep Dive into the World of Cotton Sweatshirts
The French Terry Crop Hoodie
Known for its lightweight, moisture-wicking fabric, the French Terry Crop Hoodie is like that reliable friend who is always there to make you look good. It's breathable yet warm, making it ideal for those in-between seasons when the weather can't make up its mind. The cropped style brings a youthful energy, while the soft French Terry material provides maximum comfort.
How to Style:
Pairing this trendy piece with high-waisted jeans and sneakers will never go wrong. Spruce up your ensemble with a statement necklace or a sleek bracelet. Here's a golden nugget for you: That breathable fabric isn't just there to keep you comfy and chill—it seriously upgrades your casual style game.
That's why buying a French Terry sweatshirt is always a good idea.
The Privé Hoodie
The Privé Hoodie? Think high-end street style at its finest. If you're someone who's all about that sleek, snug hoodie vibe, then the PRIVÉ collection has got your name on it. The moment you slip into one, you'll notice how the fabric feels like a second skin, hugging your body in all the right places.
How to Style:
This hoodie demands attention, so why not go all out? Match it with leather leggings or joggers and ankle boots for an edgy appearance. When you're out on the streets or jamming at a concert, this outfit ensures you own the spotlight like a rockstar.
The Full Zipper Hoodie
What sets a full zipper hoodie apart is its versatility. Want to zip up for a sleek, put-together look? Go for it. Want to leave it open for a more laid-back vibe? You got it.
How to Style:
Slide into a midi skirt, throw on some boots, and you've got yourself an outfit that's not just elegant, but an absolute head-turner. Let's be real, who wouldn't want to step out in style like that? Lightly accessorize with hoop earrings, and you're all set for a stylish evening out.
The Scoop Neck Sweatshirt
This sweatshirt aced it with its appealing scoop neckline, which added a feminine touch to your look. You get enough room to layer up without sacrificing comfort or warmth. Trust me, it's the ideal crossover piece that effortlessly goes from laid-back weekend vibes to that polished, Monday meeting look.
How to Style:
To go from the boardroom to happy hour with ease, pair this scoop neck sweatshirt with tailored pants or palazzos. Add ballet flats or loafers, and your outfit will scream comfort with a dash of class.
The Soft Crewneck Sweatshirt
Simplicity and comfort define the soft crewneck sweatshirt. A staple for every wardrobe, it's the sweatshirt that promises ease without skimping on style.
How to Style:
Perfect for leisurely weekends or running errands, team this up with capri pants or denim shorts. Go full casual with slip-on shoes or spice it up with ankle boots.
So, whether you're looking for edgy or classic, there's no denying that you can find the best cotton crew neck sweatshirts to suit any style.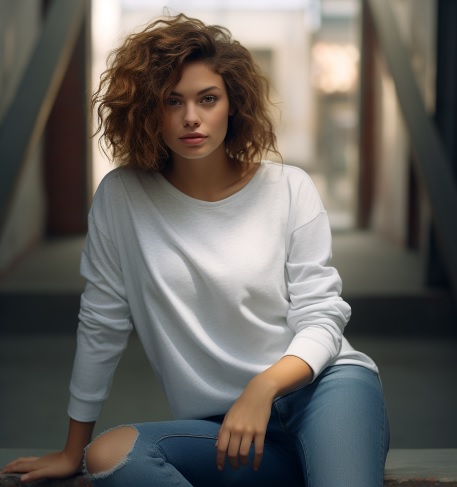 Styling a Plain Cotton Sweatshirt: The Basics
With Jeans
The classic combo never disappoints. Opt for jeans of any wash or style and complete the look with your go-to plain sweatshirt. Footwear? Think canvas sneakers or ankle boots.
With Skirts
Turn up the feminine charm by coupling a plain sweatshirt with a skirt. Whether it's a mini or a maxi, this pair will instantly make you dressy and stylish.
With Dresses
Wear a plain sweatshirt over a dress for a layered look. It's the ideal way to add texture and depth to a single piece.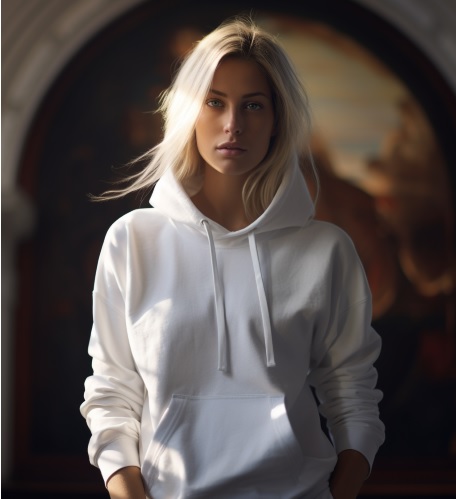 Body Type Matters: Styling for Every Figure
For Plus-Size Women
Slip on a plain sweatshirt with your favorite high-waisted jeans or leggings, and you've instantly got a flattering silhouette. Want to take it up a notch? Go ahead and layer a tank top or tee underneath for a dash of modesty.
For Petite Women
Elongate your legs with cropped jeans or pants, topped with a simple sweatshirt. A belt can also help accentuate your waist, giving a well-defined look.
For Curvy Ladies
Balance out your figure by pairing a simple sweatshirt with a skirt or dress. A fitted sweatshirt is your best bet to show off those curves tastefully.
Occasion-Ready Styling
Casual Day Out
For an effortless yet put-together look, combine a basic sweatshirt with jeans or leggings. Finish the look with sneakers and a baseball cap.
Night Out on the Town
Who says sweatshirts can't be glam? Team up your no-frills sweatshirt with a skirt or a dress, adding heels and statement jewelry to complete the ensemble.
Job Interview
Yes, you heard it right! A basic sweatshirt can be work-appropriate when styled right. Pair it with tailored pants or a pencil skirt, flats, and a blazer for a polished appearance.
How to Layer Your All Cotton Sweatshirts for Fall and Winter
Layering is your secret weapon when the chill sets in. Just slip into a cozy turtleneck or a long-sleeve tee, then throw on that favorite cotton sweatshirt of yours.
Feeling a bit nippy? Add a stylish denim jacket or a snazzy lightweight coat. Round off the look with a scarf, and you're ready to face the cold in style!
There you have it—the definitive guide to styling your sweatshirt. Whether it's a casual rendezvous, a night out, or even a job interview, the humble sweatshirt rises to the occasion every single time.
No more 'I have nothing to wear' moments. Time to go rock that cotton sweatshirt!